In 5 days Veronica and I will begin our next adventure. We will be flying out of JFK en-route to Barcelona, Spain for 3 days prior to boarding the NCL Epic.
We have never been on the Epic so we are very excited about checking out a new and different ship for us. We are also excited about our cabin location. We have a balcony cabin that is location on the aft of the ship. We are as far back on the ship as possible and our cabin and balcony face where the ship has been. These types of cabin are prime real estate for many cruisers. Our last truly aft cabin was on our very first cruise back in 2010 I believe it was. We went on the NCL Pearl to Alaska in a aft mini suite with balcony. We sure got spoiled on that cruise which lead to many cruises to follow. Back in those days a mini suite came with so many amenities...concierge service, a special restaurant for lunch, special seating area for shows, personal invites to visit the bridge to name just a few. Nowadays the biggest thing you get for a mini suite is the "location" which usually ends up being no big deal at all. We had our chance at a mini suite for this cruise but decided to stick with our beloved aft cabin.
We are also excited about itinerary that will take us to many locations that we have never been to. Besides going to new locations we have also booked several really exciting excursions.
I will be writing journal style entries in my notebook so that when we return I can share each days activities along with hopefully some really good photos.
By doing this it is like keeping those memories alive when Veronica and I return to this blog to visit and remember things and places that we have done and been to.
Here is our upcoming cruise itinerary: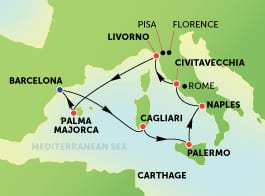 | Day | Land Tours And Cruise Ports | Arrive | Depart | Activities |
| --- | --- | --- | --- | --- |
| Wed | Barcelona, Spain | ---- | 5:00 pm | 0 |
| Thu | At Sea | ---- | ---- | 2 |
| Fri | Cagliari, Sardinia | 8:00 am | 6:00 pm | 0 |
| Sat | At Sea | ---- | ---- | 1 |
| Sun | Palermo, Sicily | 8:00 am | 5:00 pm | 2 |
| Mon | At Sea | ---- | ---- | 1 |
| Tue | Naples, Italy | 8:00 am | 6:00 pm | 0 |
| Wed | Rome (Civitavecchia), Italy | 6:00 am | 7:00 pm | 0 |
| Thu | Florence/Pisa (Livorno), Italy | 7:00 am | 7:00 pm | 2 |
| Fri | At Sea | ---- | ---- | 1 |
| Sat | Palma, Majorca, Spain | 8:00 am | 5:00 pm | 1 |
| Sun | Barcelona, Spain | 5:00 am | ---- | 0 |